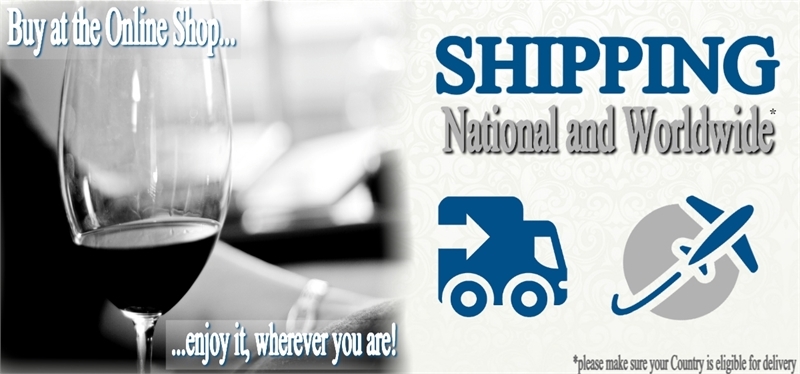 With the Online Shop, it is very easy to have that product of your choice or the one that you have been looking for some time, and thought that there was no longer available, comfortably arriving at the address of your choice, in one of the many Countries for which we ship to. (please consult the list of countries below).

If you live in a country, where unfortunately we do not ship, you can still register, buy in the Online Shop and send to an address, in a country valid for deliveries. For example, if you live in Angola, where unfortunately we do not send, you can buy and send to someone in Portugal!

We remind you that the Online Shop allows a variety of different methods of payment and delivery, for example, you can buy in the Online Shop and collect comfortably at the Store in Lisbon, at Rua da Betesga.

If you have not registered yet, do so today and join the many who have discovered, the easiest way, to have the best products at the best prices, delivered directly to their addresses.

Below is the list of Countries for which we ship.

Good shopping!


Countries to where we ship to

Albania, Andorra, Antigua and Barbuda, Algeria, Argentina, Armenia, Aruba, Ascension, Australia, Austria, Azerbaijan, Bahamas, Bahrain, Bahgladesh, Barbados, Belgium, Belize, Benin, Bermuda, Bolivia, Bosnia and Herzegovina, Botswana, Brazil, Brunei, Bulgaria, Burkina Faso, Burundi, Bhutan, Cape Verde, Cameroon, Cambodia, Canada (Toronto), Kazakhstan, Chad, Chile, Colombia, Congo, Democratic Republic of the Congo, Costa Rica, Cote d'Ivoire, Djibouti, Dominica, El Salvador, Ecuador, Eritrea, Slovakia, Slovenia, Spain, Estonia, Ethiopia, Fiji, Finland, France, Germany, Gabon, Gambia Ghana, Georgia, Gibraltar, Great Britain (UK United Kingdom), Grenada, Greece, Greenland, Guadeloupe, Guadeloupe, French Guiana, Guinea, Equatorial Guinea, Guinea Bissau, Haiti, Holland, Honduras, Hong Kong, Hungary, Yemen , Cayman Islands, Comoros, Cook Islands, Islands Falkland Islands (Maldives), Faeroe Islands, Pitcairn Islands, Seychelles, Solomon Islands, Turks and Caicos Islands, Virgin Islands (US), Virgin Islands (USA), Wallis and Futuna Islands, India, Indonesia, Ireland, Iceland, Israel, Italy , Jamaica, Japan, Jordan, Kiribati, Kosovo, Kuwait, Laos, Latvia, Lebanon, Liberia, Liechtenstein, Lithuania, Luxembourg, Macau, Macedonia, Madagascar, Malawi, Maldives, Mali, Malta, Morocco, Martinique, Mauritius, Mauritania, Mayotte Mongolia, Mongolia, Mongolia, Moldova, Monaco, Mongolia, Montenegro, Montserrat, Myanmar, Namibia, Nauru, Nepal, Nicaragua, Niger, Nigeria, Norway, New Caledonia, New Zealand, Oman, Panama, Papua New Guinea, Pakistan, Paraguay Central African Republic, Dominican Republic, Democratic Republic of the Congo, Romania, Saint Vincent and the Grenadines, Samoa, Western Samoa, Peru, Polynesia, French Polynesia, Saint Helena, Saint Lucia, Saint Kitts and Nevis, Saint Martin, Sao Tome and Principe, Sierra Leone. Thailand, Taiwan, Tajikistan, Tanzania, East Timor, Togo, Tonga, Trinidad and Tobago, Tristan da Cunha, Tunisia, Turkmenistan, Tuvalu, Ukraine, Uganda, Uruguay, Uzbekistan, Vanuatu, Vatican, Venezuela, Vietnam, Zambia, Zimbabwe.