The diversity of Port Wine is one of the top reasons, so many are found of it, because it allows for the wine to be enjoyed by people with the most varied tastes. Throughout its history, several styles have been created and at the time of choosing, some confusion can occur due to the variety. Basically, their difference is due to the time they spend in the barrels and the size of them.

The Port Wines like the other wines, are divided in Reds and Whites.

In the Reds there are two large families, the Ruby and the Tawny.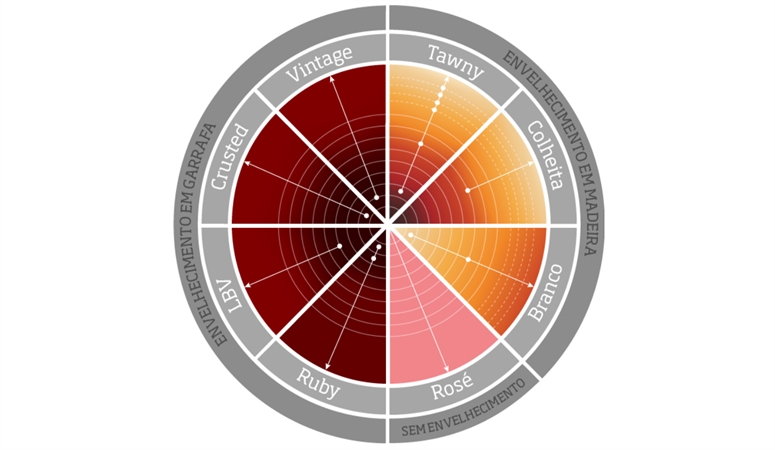 Types of Port Wine – www.winesofportugal.info

RUBY is a wine that has less contact with the air inside the barrels, and therefore little oxidation, retaining the fruity flavor, dark color (ruby), with notes of red fruits. Some LBV, and especially the Vintage, need to be decanted due to the appearance of "foot" (sediments) inside the bottle, caused by the aging. Within this category, and in order of quality:

Ruby, spends 3 years in barrels, very fruity flavors and aromas, they are very young wines, without evolution in bottle;
Rosé, is the latest innovation in Port Wine and when it was released, it created controversy, since many said that it was not a normal Port. But its difference has gained fans very quickly. It comes from red grapes from the traditional Port wine varieties. Its pink tonality was achieved through a slight extraction of color. That is, it is obtained by maceration of the grapes. After production, it evolves in stainless steel vats in order to maintain its original freshness and avoid too much oxidation. It has a beautiful pink color with ruby reflexes. Very fruity, silky, smooth and with a fine texture. It is versatile, fresh and smooth. It does not have any evolution in the bottle and must be drunk very fresh, between 6 and 7 Degrees, in a high glass, with much ice. Excellent as an aperitif or refreshment.
Reserve Ruby, a selection of several years of Port wines, which result in a rich wine, with dark ruby color, full bodied, with many notes of fruit, showing, however, very good versatility;
Late Bottled Vintage (LBV), a very good quality single harvest, ages between 4 to 6 years in the barrels. It has intense red ruby color, rich, fruity and very full bodied. Notes of red fruits that with the evolution in the barrel become more round and smooth. It can be drank at the time ofthe purchase, although some continue aging in the bottle, although not with the expression of a Vintage. Excellent option for those who do not want to buy a Vintage, but want to taste a wine that is closer to its quality, at lower prices;
Crusted, It is a blend of good vintages, spending about three years in the barrels. Fruity and elegant aromas and flavors. It is also an excellent alternative to the real Vintage and forms a sediment (or crust) in the bottle, needing to be decanted;
Vintage is the King of Port Wine (and of our Cellar too), and the one that embodies the expression so Portuguese, "It's like Port Wine, the older the better," due to the fact that all its potential is eleased with the years of resting in the bottle;

From years of exceptional quality, they give rise to the best and most mythical Port Wines. However is a wine that is appreciated differently throughout the span of its life.

Until the age of 5, it retains that fruity character and very dark red color, characteristic typical of the Ruby. The aromas and flavors are much more lush than a younger wine. After 10 years a new transformation takes place and it assumes a red garnet color and the aromas and flavors turn into notes of excellency of ripe fruits. More time in the bottle makes the color become more amber and the fruit notes reach levels of excellence and fullness of flavors and aromas that develop into unique sensations to those who taste.

TAWNY due to the large size of its aging barrels, has a high degree of oxidation, making the fruity notes give rise to notes of nuts, spices and wood. Tawnies do not continue aging in the bottle. Within this category we find:

Tawny, young wine that only spends three years in the barrels, tawny color, with young notes of nuts and wood;
Reserve Tawny, ages between 6 and 7 years in the barrels, developing a medium amber color, with attractive and elegant notes of the fruits that have already gained a certain maturity;
10, 20, 30 and 40 Years, indication of the time spent in the barrels on average. Blend of several wines of the same age. They become excellent wines that according to their age, acquire amber tones and intensify and diversify the aromas and flavors of nuts and wood at levels of excellency;
Single Harvest, from a single year, they are the kings of this category. They age a minimum of 8 years in oak barrels, being common to find wines with more than half a century and even much older. The color according to its age, changes from tawny to light amber. The aromas and flavors explode in the mouth in a mixture of elegant and rich sensations with fantastic notes of nuts and wood, all with different results depending on the product.

WHITES, as its name implies, are manufactured using white grape varieties, typical of the Douro Region. In its fermentation, there is no contact from the grape with the must, and the wine ages in large oak barrels, with more than 20 thousand liters. Among the Whites there is:

Dry White, White and Lágrima, they are the only Port wines categorized by sweetness. Dry, Half Sweet and Sweet. However, they never totally lose the sugar and for that reason it is common to find dry wines that retain some sweetness. They are young and fruity wines, which spend an average of 4 years in the oak barrels. They develop fruity aromas and flavors along with notes of oak wood. Dry White is the driest Port wine with a maximum of 65 g / liter of wine, normal White can go up to 130 g / liter and Lágrima above 130 g / liter.
White with indication of age, a blend of wines with the same age average, they are elegant, full bodied and rich.
White Single Harvest, are wines from a single harvest of a single year, aging in very large barrels, throughout their aging, they acquire straw color tones, with aromas and flavors of ripe fruit, along with notes of wood.
They are in much smaller numbers than the Tawny Single Harvests and so they become wines that are much sought after, for their rarity, but above all, for their excellence found in a bottle of White Port Wine aged for many years.